Price: $9.00
Hook: Daichi 2546 or Mustad Signiture C70SD
Size: #4 (shown in the picture), #2
For "traveling" permit, or bonefish, in shallow water, or coral flats.
Can be tied weedless.
The light green Slow Sinking Shrimp was perfect for permit, over the turtle grass, on a shallow flat in Espiritu Santu Bay.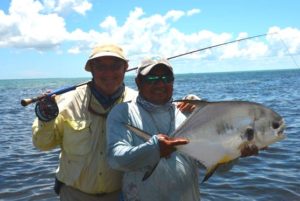 …and the light tan Slow Sinking Shrimp scored this permit over a shallow sandy flat, in Ascension Bay!